For over 70 years, households in the United States have been using chain drive openers for their overhead garage doors. This one is the oldest of the three main types of electric operators available at present. It is also the most extensively used.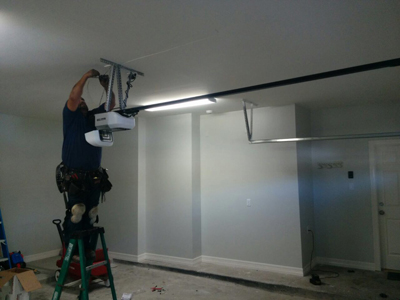 Each opener system consists of several major components
The first one is the motor unit. It houses the motor, moving gears and a receiver. It is mounted on the ceiling at a set distance from the overhead door. A metal rail goes from this unit to the wall above the door. A metal chain is set inside the rail. It is connected to one moving gear inside the motor unit and to another one at the other end of the rail. When the motor is started, the chain is operated by the gears and moves towards the motor unit during opening and in the opposite direction during closing. The motor unit can be started with the wall-mounted button or the specially designed transmitter.
A specially designed trolley is connected to the drive chain. When the chain moves back and forth, it practically drives the trolley in the respective direction. There is a moving arm extending from the trolley to the door. This is how, by moving the trolley, the motor and chain operate the entire door.
Due to the fact that they use a metal chain as a drive unit, these openers are regarded to be the most durable. At the same time, the chain requires special care. It has to be cleaned and lubricated with a specially designed product on a regular basis. Otherwise, there will be too high friction between the chain and the rail and the moving gears. This will lead to faster wearing and loud noises.