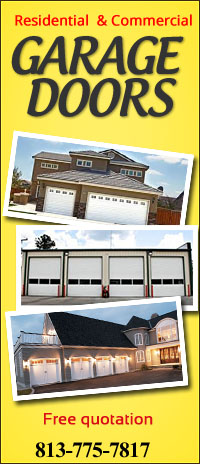 If you are an existing or aspiring owner of glass garage doors, you will certainly benefit from using our professional services especially designed for such units. Our company has been in business for a long time and can do anything that you may require. Our services include everything from repair and maintenance to installation and replacement. Count on us to provide swift assistance in an emergency as well. We are proud to work with doors of practically all brands, sizes and years of production. With us, all copper and aluminum overhead doors with glass panels are in good hands.
Full Professional Servicing for Glass Garage Doors
These units are made to be strong and resistant to damage, but this does not mean that they will never experience problems. When an issue occurs, let us resolve it effectively and swiftly. For emergencies such as a broken spring, you can expect to get servicing in the shortest imaginable time. Our highly qualified technicians use only advanced techniques and tools for garage door repair. All spare parts are chosen for their functionality and durability. Testing is an integral component of our repair service. The technician will leave only after confirming that the automated system works safely and effectively once again.
We have everything necessary to fix any damaged component from the weather seals to the opener and its accessories. Even when there is a broken garage door panel, rely on us to replace it with an exactly matching new one. You will get the exact same glass color and thickness. The door will look as good as new after the fix. Rest assured that the panel will be set securely in place. The safe operation of overhead doors is our top priority.
More and more owners of glass units use our professional maintenance service. While glass is utterly beautiful, even the smallest spot of dirt on the panels is clearly visible. That is why we at Garage Door Repair in Lake Magdalene clean the panels and all other components for that spotless look. Our service includes lubrication of the moving hardware parts and adjustment of the spring and opener. All components are thoroughly inspected. Damaged and faulty parts are repaired or replaced.
Hire us with confidence when you plan to get a new glass door for your garage. Our company specializes in both garage door installation and replacement of Chain Drive Openers. You will receive full assistance with choosing the best glass unit for your needs from advice on the best frame construction to ideas for the most functional glass design. The installation process will be perfectly organized. The work will be completed within the set deadline. Our professional service features everything required including the adjustment of the garage door opener settings.
Review our website for more information and for contacting us online.